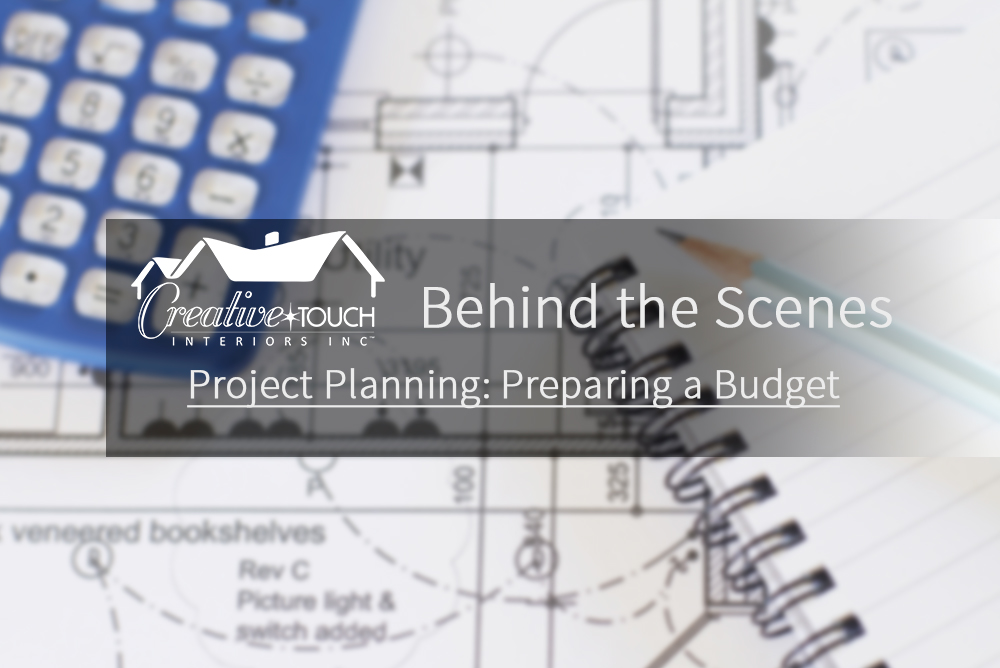 There are many aspects to planning a renovation project. In fact, between creating the initial designs and starting demolition there is a very important, although perhaps not often discussed-in-detail step; preparing the project budget. As mentioned in our previous article about getting started with a home renovation we discuss three phases process which includes:
Behind the scenes (project planning)
Performance (project execution)
Wrap up (final touches and reveal)
At Creative Touch Interiors we provide our clients with the utmost transparency when it comes to project planning. Why do we do this? Because open communication and collaboration builds trust and ultimately creates the best end result. After the design has been approved we will prepare a project budget for final approval before proceeding to demolition.
How is a renovation budget prepared?
Preparing a budget requires extensive experience and knowledge. The ability to take a design render and detail all the materials, fixtures, and labor required to bring the design to life is a critical component of renovation project management. This is where Creative Touch Interiors has a significant advantage. We bridge the gap between design and execution to ensure the renovation process is smooth and seamless. We will prepare a detailed list of product pricing and labor quotes to give you a clear picture of the total estimated cost of your project.
Why is budgeting important?
During the initial consultation we will discuss your project budget in general terms. This is really important because it provides us with the direction we need to create a design that will meet your expectations. How much are you prepared to spend on this renovation? What are some of your must-have requirements? You may want something, but can you afford it? Creating a budget helps you prioritize your needs and identifies how much you can afford to spend. Having a detailed budget also ensures there are no surprises at the end of the project; you know what to expect when the final invoice comes. Although it is always advisable to plan for potential unforeseen costs (as these can sometimes happen in a renovation!) most clients enjoy having the peace of mind and comfort of knowing their project budget up front.
Mid-Century Condo Re-design: Project Status Update
As we mentioned in our last blog post, we will be following the progress of our latest full home re-design project from beginning to end. For our lovely mid-century condo we have completed the following steps:
Consultation with the design team

Review of project scope

Evaluation of layout and establishing vision

Sourcing of products, materials and furnishings

On-site meeting with trades

Preparation of budget
Stay tuned as we move into the performance phase!