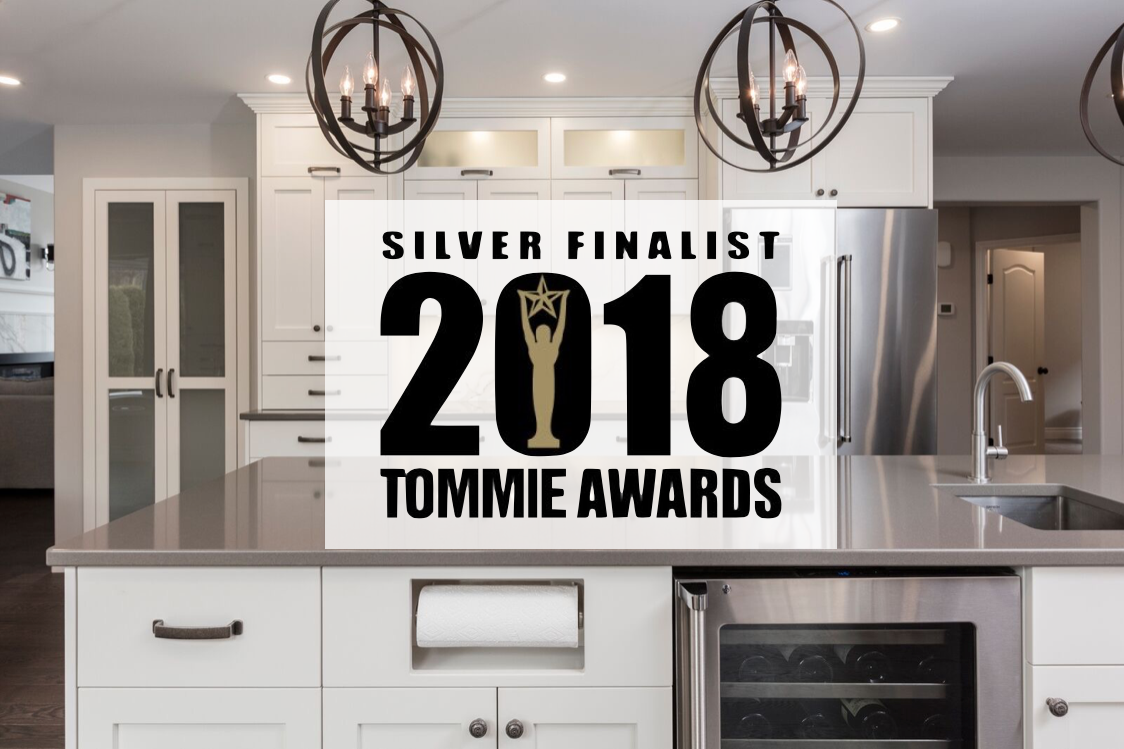 2019's Tommie submission deadline is fast approaching, and we want to highlight another of our finalists from last year's awards.
Our second Silver Finalist, in the category of Excellence in Residential Renovations, is our beautiful Cascia Drive Home.
This project was for a returning client, who we had executed a bathroom renovation with the previous year in the same home.
We'd like to give special recognition to our project contributors – Baths By Design, Epic Electric, A1 Choice Plumbing, Accent Renovations, Okanagan Hardwood, and Wall-to-Wall Kitchen & Bath. Thank you for helping us make this project into a beautiful success!
Baths by Besign is one of the largest bathroom showrooms in the Okanagan. Canadian owned since 1992, they offer high end quality products, installation of frameless glass showers, and professional advice. Thank you for outfitting this bathroom so beautifully.
Epic Electric is your expert team of electricians to get the job done swiftly and efficiently. Thank you for proudly serving the entire Okanagan Valley, with your vast backlog of experience and wealth of knowledge.
A1 Choice Plumbing is a family-owned and operated, full service company specializing in a wide range of plumbing at homes and businesses throughout the Okanagan area. We appreciate the professional service from your experienced team.
Accent Renovations has been the proud recipient of various Silver Tommie Awards from 2011 – 2017. They are thrilled to be a Tommie Gold Award winner in 2014 and 2016. Most recently, Jeff and the team received the prestigious Renovator of the Year Award for 2018! Professional, trustworthy and passionate, their Award-Winning team combines intuitive design with deluxe craftsmanship. Supporting the local economy and preserving the environment are forefront with every project. We are so grateful for your partnership and commitment to this community.
Okanagan Hardwood is a full-service flooring company selling all types of materials – hardwood, tile, natural stone, carpet, laminate, vinyl, cork and resilient rubber flooring – plus all of the finishing supplies, air vents, cleaning products and protection systems you need. Thank you for providing another consistent, quality product for this home.
Wall to Wall Kitchen and Bath are the premier custom cabinet makers for modern and period style kitchens and vanities. They handcraft custom cabinetry every day, delivering the finest quality in Shaker, Arts and Craft, Country, Victorian and Modern styles. Thank you for building your business on cost-effective products with exceptional quality.
Also, a special thank you to the homeowners for allowing us to submit their home to be considered for an award. We are so appreciative of the relationships we have developed with our clients, our trades, and our suppliers!
Project Details
The homeowners wanted to update and modernize their original family home to host and entertain their growing extended family during holidays and special occasions. Here we provide you with details of all of the construction considerations that went into the design and planning of this wonderful and functional renovation.
The existing floor plan was maintained, with the exception of removing the wall between the kitchen and dining room. We enlarged windows in the kitchen, as well as the patio door in the living room, to open up the space and bring in more natural light.
In order to accommodate their desires and needs, the kitchen cooktop was moved to the perimeter, where one beautiful, seamless piece of glazed porcelain tile backsplash reflects light back to the room. The kitchen island was extended for more functional counter space with additional seating, and a prep sink and wine fridge added for increased functionality. We created unique storage options, included a dry bar in the kitchen nook, and created a butler pantry in an otherwise underused closet beneath the staircase.
Modern, high efficiency gas fireplaces were added to the front living room and family room, with a clay hearth and tile facade; and seamless book-matched marble style porcelain facade, respectively. Custom built-in storage cabinets were installed in the family room adjacent to the kitchen, and an outdated sunken living room floor was raised to create cohesion on the main floor of the home.
Environmentally friendly FSC® certified engineered hardwood flooring was installed throughout the home for added warmth, including new risers and treads for the entryway staircase. Here the original railing was refinished and reused, and modern spindles and newel posts added.
Bathrooms were completely modernized within their existing footprint, and updated with Low-flow aerated faucets. In the main bathroom, a custom walk-in tiled shower was designed, and a new vanity installed.
Other environmental considerations on this project included LED lighting and energy star rated appliances installed throughout, for efficiency and quality; all new cabinets constructed with low VOC & formaldehyde free materials and finished with waterborne lacquer; interior painting done with zero VOC latex paints; and negative air containment practice used with HEPA air filters to protect air quality in the space during construction.
Knowing our clients loved a classic and formal look, we know their space will be a happy and healthy place to enjoy through the seasons and trends with their expanding family.