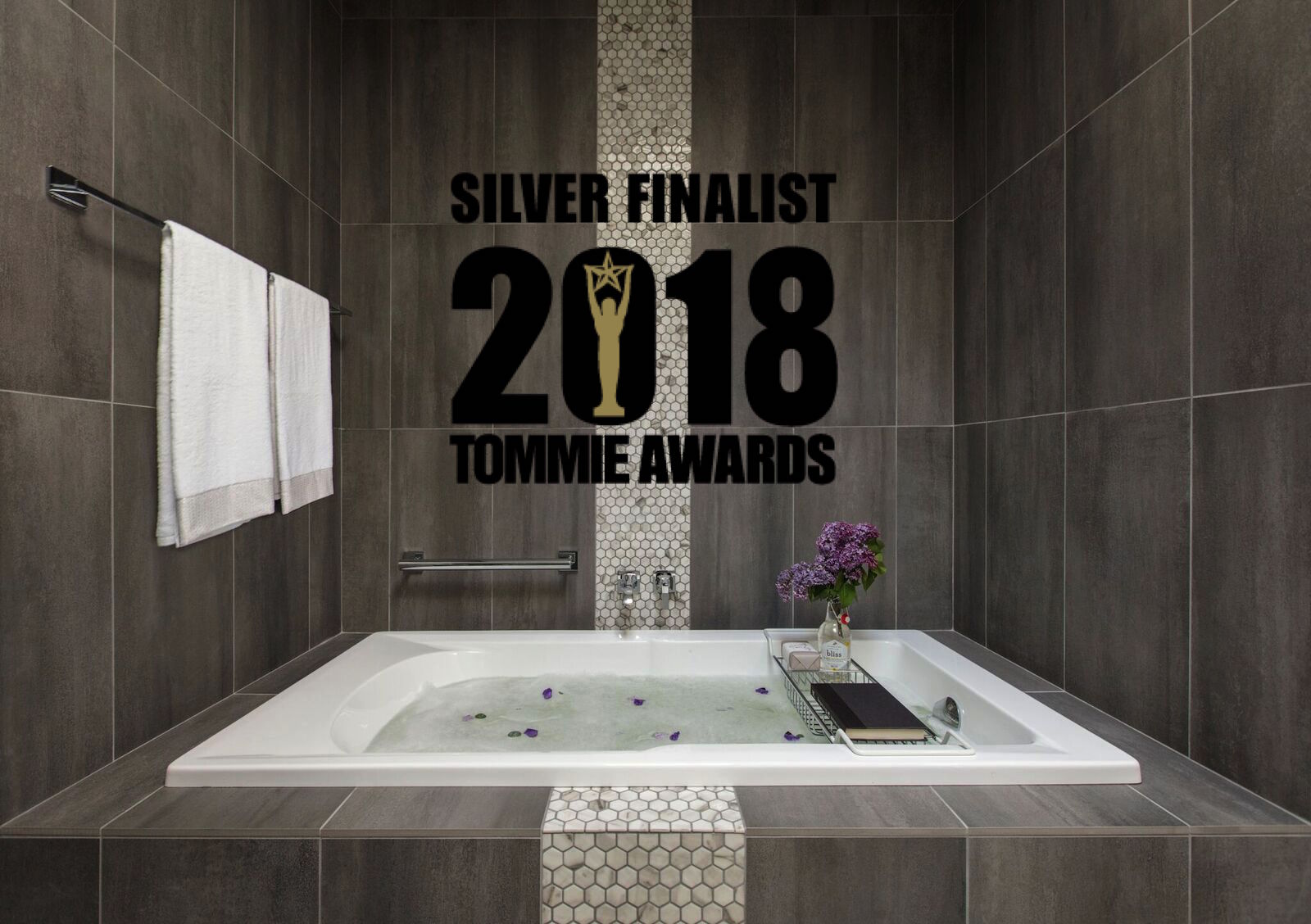 As the season changes, more projects are nearing an end, and we are all thinking about our Tommie Award submissions for 2019! Before we unveil some of our new projects from this year, we'd like to reflect on some of our finalists from 2018.
Our first Silver Finalist, in the category of Excellence in Bathroom Renovations, is our beautiful Zen Ensuite.
We'd like to give special recognition to our project partners – Baths By Design, Epic Electric, Ivy Plumbing, and Sole Dreams. Thank you for helping us make this project into a beautiful success!
Baths by Besign is one of the largest bathroom showrooms in the Okanagan. Canadian owned since 1992, they offer high end quality products, installation of frameless glass showers, and professional advice. Thank you for outfitting this bathroom so beautifully.
Epic Electric is your expert team of electricians to get the job done swiftly and efficiently. Thank you for proudly serving the entire Okanagan Valley, with your vast backlog of experience and wealth of knowledge.
Ivy Plumbing provided quality plumbing and heating services for our bathroom remodel. We appreciate your commitment to providing the best in local plumbing repairs and new installations.
Sole Dreams has been providing flooring installs, renovations and more, since 2005. Thank you for your creative and meticulous workmanship in creating this gorgeous and relaxing spa retreat bathroom.
Also, a special thank you to the homeowner for allowing us to submit the bathroom to be considered for an award. We are so appreciative of the relationships we have developed with our clients, our trades, and our suppliers!
Project Details
Our client desired her dark, dated and cramped 90's bathroom be transformed into a sleek modern Zen oasis with a separate shower and deep soaker tub for long relaxing baths.
The original bathroom's angled, dated oak vanity, moulded tub/shower combo, and heavy bulkheads were stripped, and the shower relocated. To make efficient use of space, walls were opened and built out to facilitate a new plumbing chase for the shower, increasing floor print. Removal of bulkheads and pot lights opening up the ceiling, creating more vertical space, and squaring the room by removing the angled wall allowed for a custom-built tub deck surround, creating visual uniform flow.
Charcoal wall tile cladding creates depth, and a clean, sleek feel. The clever vertical installation of wall tiles imparts height to the room, and the marble floor tile creates an open walkway, adding to the generous feeling of larger space. White marbled honeycomb tile applied in a vertical band down shower and tub walls provide contrast and create whimsical pattern. Light refraction from the existing skylight, previously dominated by bulkheads and dark paints, now creates iridescence on the tile application. The walk-in tiled shower with bench seat, boasts glass inserts on tiled stub walls, and a glass pivot door refracting light and mirroring the room. A rain-shower head, hand-held massage sprayer, and chrome bathtub tap and spout are artistically captured by installing on the honeycomb tile treatment.
A wall-hung vanity floats between shower and tub deck, with a white porcelain vessel sink that appears to float as well. The slim-line chrome faucet curves over the rim of the sink, a dark framed wall hung mirror complementing the Zen feel. Splashes of white on the floor, tub, and vessel sink energize the darker vanity and tile application, fashioning contrast and spatial feel. Carefully selected light-coloured wall paint creates a break between shower and tub deck, reflecting the natural light streaming in from the skylight above.
To address environmental considerations, we included energy-efficient, water-wise fixtures, completed a PVC Plumbing upgrade, applied a recycled glass accent tile, and incorporated LED lighting throughout.
The homeowner has already been able to experience rest and relaxation in her spa-like new bathroom, and will surely continue to do so for years to come.