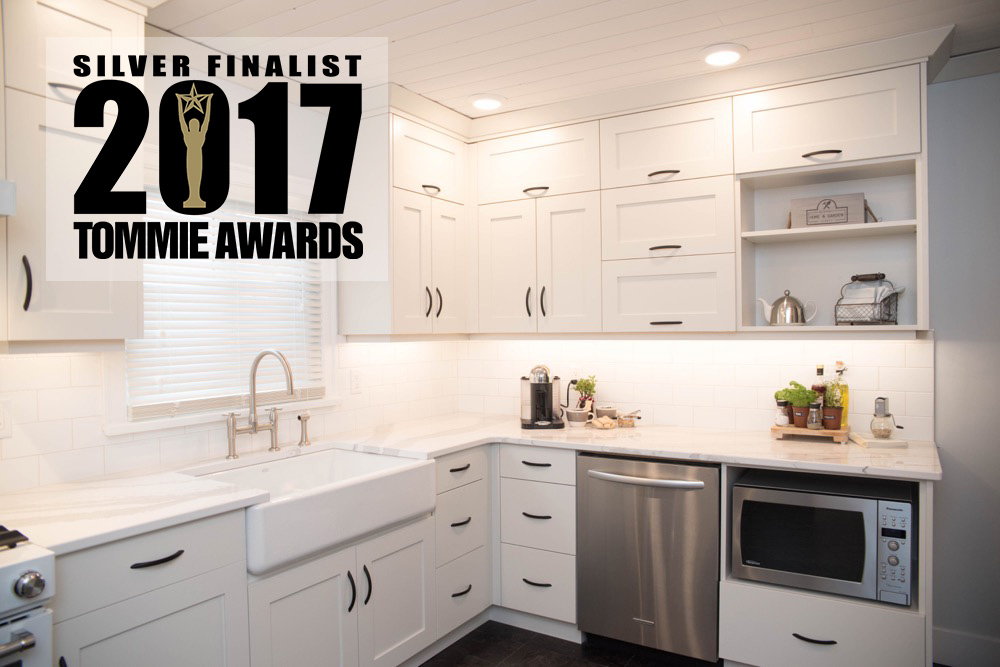 We are excited to announce Creative Touch Interiors has won a Silver Tommie Award for our Heritage Home Kitchen Remodel.
We'd like to give special recognition to our project partners – Floform Countertops, Trail Appliances, Ace Plumbing and Heating, and Accent Renovations. Thank you for helping us make this project into a beautiful success!
FloForm Countertops is Kelowna's leading source for beautiful products for the perfect kitchen customization.  All the finishes, colours and accessories worked beautifully together, thank you!
Trail Appliances supplies the Okanagan with quality appliances. Thank you for equipping our kitchen so wonderfully!
Ace Plumbing and Heating provided quality plumbing and heating services for our kitchen remodel. We appreciate your professional and reliable service.
Accent Renovations has the best qualified contractors with 15 plus years experience in the Okanagan Valley. Thank you for your expertise and partnership in creating this gorgeous award-winning kitchen.
Also, a special thank you to the homeowner for allowing us to submit her home to be considered for an award. We are so appreciative of the relationships we have developed with our clients, our trades, and our suppliers!









Project Details
Redesigning the kitchen in a 1940's heritage house required special consideration of the existing structure. An old chimneystack prevented changes to the layout, so the design needed to work within the existing square footage. Major upgrades to the electrical, gas and plumbing systems were mandatory to bring the older home up to current code. Maintaining the structural integrity of the 75-year-old building, while safely supporting the conveniences found in modern kitchens, was vital.
The client desired a functional space to fit her lifestyle. She dreamed of a kitchen where she could bake & cook for her family with ease. Given the structural limitations in this project, efficient use of space was paramount.  Special consideration was given to elements like counter space and storage. A custom cabinet was built to house the client's cherished mix-master. The fridge is flanked by a convenient desktop workstation and custom built shelving perfect for recipe books & décor. The washer and dryer couldn't be relocated without sacrificing square footage in the adjacent bathroom so the stackable set remained tucked away in the entryway.
Creative finishing details, like the panelled ceiling and window trimming, make the new kitchen feel at home in the older house.  The blue, hand selected by the client, was paired with white to make the room feel bright and open. The black vinyl flooring was chosen to be functional and stylish while the stainless steel & white appliances further the vintage/modern vibe.
The high efficiency washer & dryer, energy star rated appliances, LED lighting and window upgrades bring the environmental efficiency of this older home up to current standards.
The homeowner is ecstatic to enjoy comfort, safety & convenience in her beautiful new kitchen.