Heritage Home Kitchen Renovation
Heritage houses and older homes have a lot of personality. However, sometimes when it comes to renovating them you have to get creative!
This project was challenging but fun to work on. The client loves her heritage home; however, she had been longing for some upgrades- particularly in the kitchen. We sat down and talked about all her wants and needs in order to get started with the initial interior design. The house is an older structured home from 1949, which posed some unique challenges. With an old chimney stack behind an already updated wall, we were not able to create some of the proposed design ideas we were set out to do. The services needed to be upgraded and there was a strict deadline to meet just before Christmas. The kitchen being small as it was we had to get creative with the layout, fixtures, and colours to create an open and inviting space that fit well and maintained unity in the home.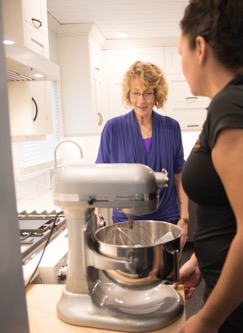 The remodelled kitchen features white cabinets with complementary quartz countertops. The appliances provide a mix of white and stainless steel accents. There is a small nook beside the fridge with a built in desk space and the stackable washer and dryer (which could not be re-located because of the chimney stack) kept tucked away neatly by the back doorway. The wall colours are fresh and were selected to keep a clean and modern feeling to the space. Wood slats were added to the ceiling to maintain the heritage feeling of the home, so although the kitchen is modern it doesn't seem out of place in this quaint character home! The best part was revealing the custom cabinet that was created to house the clients' Mixmaster- she was so excited to use her adjustable pull-out shelf with ease AND right before the holidays! The client was ecstatic with her new functional kitchen and we were happy to be on schedule!
This kitchen is a prime example of the project management expertise we provide. From initial concepts & designs, all the way through to demolition, installation, and final staging we manage every aspect of your renovation project. We collaborate with the trades and provide a detailed plan so the project remains on time and on budget. Even when the unexpected happens, you can trust that we will handle it all so you can renovate without the stress!