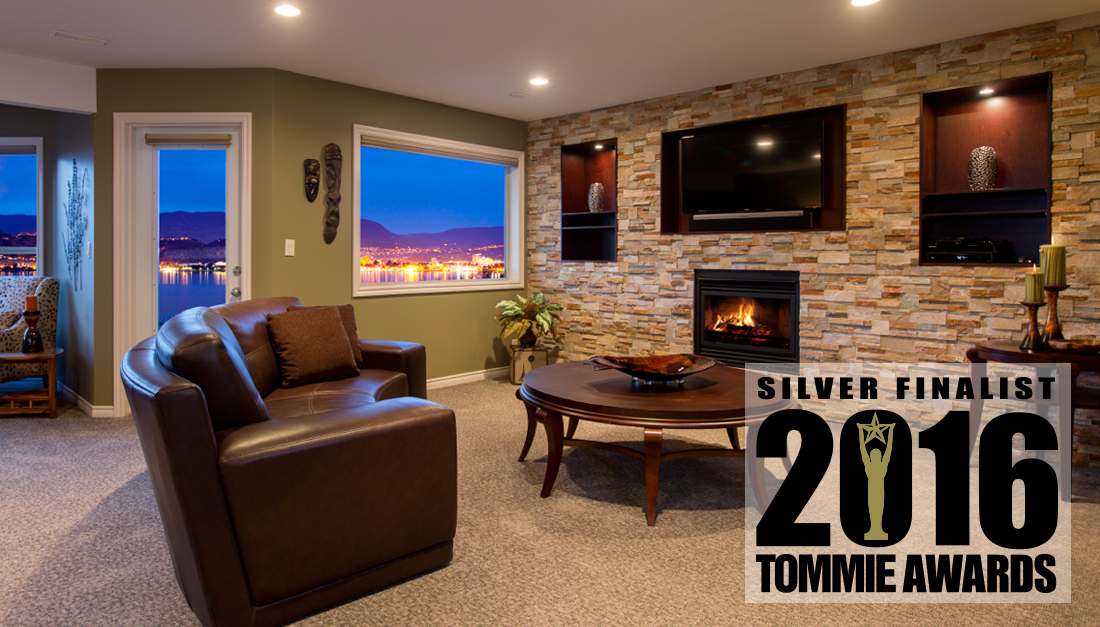 We are so honored to have received a Silver Tommie Award from the CHBA Okanagan in the Excellence in Residential Renovations in Kelowna ($75,000 – $150,000) category!
We want to say thank you to our trades, suppliers, and partners who contributed to making this project a success:
Also a special thank you to Len Leibel, for opening up his home and working so closely with us through the entire process. It was a joy to collaborate with Len, his enthusiasm and participation was phenomenal. Finally a special thank you to Shawn Talbot for the amazing photography.
About the award winning project
The purpose for this renovation was very personal to the client. Originally the home was redecorated by Creative Touch Interiors under the direction of the homeowner's wife who passed away prior to finalizing plans for further renovations. Because of this pre-existing relationship, the homeowner Len hired Creative Touch for a complete home redesign. The renovation served as a therapeutic way to move forward as well as to honor his wife's memory.
To creatively make use of space, the original floor plan was kept intact. However, significant updates were made to the kitchen, the main floor living room and downstairs entertainment room as well as cosmetic updates throughout the home. All existing kitchen cabinets and appliances were sold, and the funds were put toward the renovation budget, allowing for completely new cabinetry and stainless steel appliances to be installed for a vastly updated modern look. Flooring for the kitchen was selected to compliment the existing colour palettes and living room carpeting which were a part of the original re-decorating project. Every detail was selected to create unity and flow between new and existing elements. Incorporating some of the existing furniture into the design saved expense allowing for additional improvements to the space.
The main floor living room fireplace was completely replaced with a new, energy efficient unit. The underutilized entertainment room was transformed by re-facing the existing fireplace to create a dramatic feature wall. A complementary feature wall with functional cabinetry was installed to house entertainment wiring. The result is a warm, inviting, and functional space. Environmental considerations include repurposing the original cabinetry and appliances, the energy efficient fireplace in the main floor living room and new energy star rated appliances in the kitchen. A humidifier was also installed to extend the lifespan of the hardwood flooring. Investing in quality finishing materials extends the longevity of the home, reducing unnecessary waste.
The homeowner loved the result, the experience, the overall function, and the flow. The aesthetic balance achieved in this renovation allowed the client to close a chapter in his life, and look forward to a new beginning in the Okanagan.





Congratulations to all of the Silver finalists, including our partners at Associated Contractors:
Accent Renovations, Tommie Award Silver finalist for Excellence in Commercial Renovation and Best Commercial Retail/Office
Marvel Pro Contracting & Renovations, Tommie Award Silver finalist for Excellence in Creating an Interior Feature/Innovation in a Home and Excellence in Residential Renovations under $75,000